Benchmarking Scenarios
1. Grasping (104.8K):
In the figure below, the hand model is composed of 21 links and 8k triangles, and the sphere of 2k triangles. Our CCD algorithm is used to find the first contact between the hand and sphere during the approaching motion of the hand; it is then used again to find the ToC between the fingers and the sphere, as well as between the fingers themselves as they close.
<![if !vml]>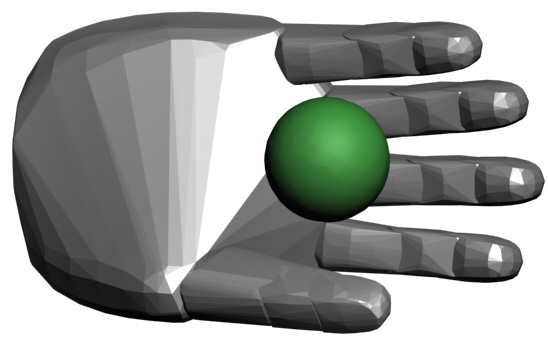 <![endif]>
Grasping
---
2. Club vs Club (104.8K):
In the figure below, the red, blue, and green objects denote the club model at initial, final and TOC configurations respectively. The TOC configuration is computed by our continuous collision detection algorithm after linearly interpolating the initial and final configurations. The yellow object shows the configuration of an obstacle. There are more than 200 simulation steps in the benchmark, and in all trials no collision-free situation exists.


Club vs Club
Download Video in WMV

(0.7MBytes)
---
3. Hammer (1.7K) vs CAD Piece (2.6K):
A similar set up like the benchmark 1.
---
4. Rigid Body Dynamics for Bunnies: Using the same benchmarking (Rigid Body Dynamics for Bunnies) setup as FAST: http://graphics.ewha.ac.kr/FAST/. In the figure, the TOC configurations are shown as green objects. In the following graph, "*" shows the simulation steps when the TOC should be computed.
---
RELATED LINKS
FAST:
http://graphics.ewha.ac.kr/FAST/
CATCH:
http://graphics.ewha.ac.kr/CATCH
PQP: